Pa Learning Standards
(Reprint from PA Dept. of Education)
The Pa Department of Education has developed S A S, Standards Aligned System. This is designed as a comprehensive approach to supporting student achievement in public school systems throughout the state. This approach was recently extended on a voluntary basis to early education, infants through kindergarten and mandated as a requirement for Keystone Star 3 and Star 4 centers.
Pennsylvania's Learning Standards for Early Childhood were constructed as a joint project of the Departments of Education and Public Welfare. The Office of Child Development and Early Learning, established in 2006 to administer both Departments' early childhood programs, oversees revisions and implementation of these standards.
Each set of Standards has been formulated with help and guidance from practitioners who represent early childhood programs and advocacy groups, higher education, and policy analysts and researchers. Support for the development of the Standards was provided through the national Build Initiative, a multi-state partnership that helps states construct a coordinated system of programs and policies that respond to the needs of all young children.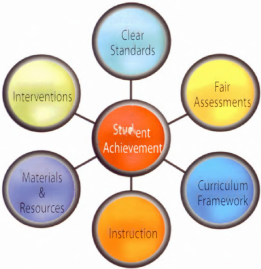 INTRODUCTION (read more)
Children are born with an incredible capacity and desire to learn. Over 30 years of research confirms the foundational importance of early education and care for children's school and life success. It is essential, then, that students' first school experiences are robust ones, steeped
in expectations that develop critical thinking and problem solving skills, a deep understanding about themselves in a social society and age appropriate content.
Teachers' instructional practices must embed the domains of development: cognitive, social-emotional, language, and physical within the foundations or approaches to learning that enable children to explore, understand and reach beyond the "here and now" to challenge themselves and to experiment and transform information into meaningful content and skills.
Teachers of very young children have the awesome task of providing rich information and experiences that build skills and understanding in the context of every day routines and within intentionally-designed play opportunities that capture children's interests, wonder and curiosity so they want to know more. Pennsylvania's learning standards join hand-in-hand with the learning environment; the responsive relationships that have been built with children, families and the community; the age, cultural and linguistically-appropriate curriculum; and the practices being used to assess children, classrooms and programs to create the best possible experiences for learning success.
The Pa Department of Education and the Office of Child Development and Early Learning utilize a Standards Aligned System (SAS) that links the elements of instruction, materials and resources, curriculum framework, fair assessment and interventions, and learning standards to children's engagement in learning and their school success.
MATERIALS AND RESOURCES (read more)
Every early learning classroom, whether it is in a home atmosphere or center-based setting, must be a comfortable, safe and nurturing environment where children can play with blocks, manipulatives, art materials, and dramatic play items to enhance skill development. Children discover and understand science, social studies, and math information when they actively explore materials and ideas that are guided by teachers who intentionally design activities that engage children in critical thinking and processing. Children also learn about their own abilities and
learning styles, how to get along with others and how to appreciate others' contributions in
classrooms that include a diverse set of materials and experiences.
School environments should be linked to a child's home environment, incorporating cultural and ethnic materials and children's home language and provide experiences that are inclusive for all children, regardless of ability, socioeconomic status, or family background. Well-designed classrooms demonstrate a commitment to the whole child by offering materials and activities that
promote social, physical, cognitive and language learning.
Classroom assessment instruments that help providers assess the arrangement of indoor and outdoor space, the provision of materials and activities, and their development of class schedules are useful in assuring best practice implementation and alignment to Pennsylvania's Learning Standards for early childhood.
INSTRUCTION (read more)
Instruction in the early years often looks different than in the older grades. Learning occurs within the context of play and active learning strategies where children are engaged in concrete and hands-on discovery and in experimentation and interaction with materials, their peers and nurturing adults.
Teachers help construct knowledge during these active learning times by designing activities that build on children's prior knowledge to create new understandings and information. A limited amount of direct teaching combined with child-initiated play produce optimal conditions for young children's education. Teachers become facilitators or guides of learning who interact with
children throughout the school day. They ask open-ended questions that encourage children to think about what comes next or want to know more and they support children's creativity, problem solving, intuition and inventiveness (approaches to learning) by challenging and encouraging them. Teachers design focused instruction that is based on the identified individual needs of every child and assure these experiences encompass their interests, abilities and culture.
CURRICULUM FRAMEWORK (read more)
A curriculum framework reminds us what information should be taught to young children within each of the Key Learning Areas. It assures the continuum of learning that begins at birth and continues through graduation. Pennsylvania's curriculum framework includes big ideas, essential questions, vocabulary, concepts and competencies that further define the learning standards.
FAIR ASSESSMENTS (read more)
Teachers must use both informal and formal assessments to understand children's progress. In early childhood, formative assessments that provide information about how children are progressing in the classroom allow teachers to make adaptations or adjustments in the individualized learning plans for every child.
Early childhood professionals observe and assess children in their classroom setting using the materials that are found in their school environment. Blocks that children count or stack, for example, provide the information teachers need to understand children's math or fine motor skills. Outdoor play or recess allows the adult to observe children's gross motor skills or the social interactions with peers.
Teachers must use the information they have documented during observation, along with information from the parent, to identify goals and next steps for children's learning through play.
CLEAR STANDARDS (read more)
Learning Standards provide the framework for learning. They provide the foundational information for what children should know and be able to do. Pennsylvania's learning standards build on information learned previously, creating a continuum of learning that assures consistent and linked learning that begins in infancy, gradually getting more difficult as it extends through
high school.
Pennsylvania also uses program standards that assure children's experiences are being offered in high-quality settings. Keystone STARS, PA Pre-K Counts, ABG, HSSAP all use similar sets of standards that provide guidance on program operation that exhibits best practices.
INTERVENTIONS (read more)
When teachers are observant and assess children's abilities, interests and achievement using the standards as a guide, interventions become part of the teachers' everyday practice. Revising activities, adjusting lesson plans and accommodating children's individual differences becomes matter-of-fact and the norm. Successful strategies that allow children to master skills at his or hew own pace provide benefits for all children as they interact with others of varying abilities and cultures.
1.Early Childhood Special Education
Early childhood classrooms should be inclusive ones where children with disabilities and developmental delays are enjoying learning experiences alongside their typically developing peers. Teachers may need to adapt or modify the classroom environment, teacher interactions and/or materials and equipment to help children with disabilities fully participate.
Pennsylvania's Learning Standards for Early Childhood are designed to be used for all children. The content within these standards does not need to be specific to an age, grade or specific functional level, but instead provide the breadth of information from which to create goals and experiences for children that will help them reach their highest potential while capturing
their interests and building on what they already know. Teachers must emphasize and celebrate all children's accomplishments and focus on what all children can do.
2. English Language Learners
Children develop language much the same way they acquire other skills. Children learn native and second languages using an individual style and rate. Differences among English Language Learners such as mixing languages or a silent period are natural. Each child's progress in learning English needs to be respected and viewed as acceptable and part of the ongoing process of
learning any new skill. The skills needed for young English language learners to become proficient in English are fully embedded in the Pennsylvania's Standards for Early Childhood.
EARLY CHILDHOOD CONNECTIONS (read more)
High quality early learning programs also promote connections that assure children's school
success. Programs that build relationships with children and families and coordinate their work
with other early learning programs, school districts and grades within districts create strong
partnerships for success.
1. CONNECTIONS TO CHILDREN
Relationships are the key to successful connections between a teacher and the students. Teachers must take time to know every child, to understand the way in which they learn best, to identify the special talents and skills each child possesses and the interests that excite them to learn more. Adults who work with young children must be students themselves as they learn about children's home experiences and culture so they can design learning environments that support the home-school connection and expand prior learning and experiences into new achievements and acquisition of knowledge.
2. CONNECTIONS TO FAMILIES
Parents of young children have much to offer in the learning process. When a partnership is formed between teacher (or school) and the family, the connection between home and school has been strengthened, assuring that children receive consistent messages about learning and skill development. Parents should be given opportunities to learn about their children's day at school, to provide input into the information they want children to learn and master, and to understand what they can do at home to enhance the school experience. Frequent informal conversations, invitations to participate in classroom life and voluntary take-home activities that relate to school experiences help to build the partnership.
At-home resources for parents such as Kindergarten, Here I Come, Kindergarten, Here I Am or Learning is Everywhere provide both teachers and families with tools to connect at home and school learning and to share age appropriate expectations and activities that support that connection.
Families' ethnicity and culture must be interwoven into the life of an early childhood program and classroom. Staff must embrace all children's heritages and provide activities, materials and experiences that help children become aware of and appreciate their own culture while learning about and appreciating the similarities and differences of others'. Staff in high quality early education programs know and understand their own attitudes and biases and are
culturally sensitive and supportive of diversity.
3. CONNECTIONS WITH OTHER EARLY LEARNING PROGRAMS
Children and families often have other needs and priorities in addition to participation in high quality early childhood learning programs. Families may need to coordinate their early learning program services with child care, health services or early intervention services, as well as with their other children's school experiences. Programs within a community that support families' single point of contact or help to coordinate services for children demonstrate a strong understanding and respect for families. Providers that reach out to neighborhood schools to facilitate transition into the public school or who have developed a working relationship with their early intervention provider assure linkages that support children's school readiness
and ongoing success.
4. CONNECTIONS FOR LEARNING
Young children make learning connections through play. Providers that allow children time to explore and discover, both inside and outside, have optimized children's capacity to internalize and generalize content by making their own connections to prior-learned knowledge. All children, regardless of age and ability, need opportunities to engage in practice activities and experiences that are steeped in play.
Adults must also use literature connections in all domains. Literature
supports both content and social and cultural learning. It is a foundation for
curriculum integration.
THE LEARNING STANDARDS CONTINUUM (read more)
Within all of Pennsylvania's Early Childhood Standards, the Key Learning Areas define the domains or areas of children's learning that assure a holistic approach to instruction. All children, regardless of age and ability, should be exposed to experiences that build their skill development in approaches to learning, social-emotional development, language and literacy development, physical or motor development, creative expression and the cognitive areas of mathematics, science and social studies. The Standards within each Key Learning Area provide the information
that children should be able to know and/or do when they leave the age level or grade. The Standards are also organized by Standard Statements that specify specific skills. New, in 2009, strands further define the standards by organizing the information into focus areas. The strands become the connections to the Academic Standards for grades 3-12. They, too, use these strands to organize the content that all children in Pennsylvania should be able to know and do.
PENNSYLVANIA'S EARLY CHILDHOOD CONTINUUM OF STANDARDS (read more)
Infant-toddler, Pre-kindergarten and Kindergarten standards are connected through the Continuum of Learning and further linked to the 3rd grade academic standards. Using the strands as the organizer, professionals are able to look across ages and grades to understand how children's development emerges. Some skills will not emerge in a noticeable way until a child is older. These standards statements will be identified on the continuum as "emerging". For example, concepts about money are not ones that infant teachers need to develop. They show in the social studies standards for infants as "emerging". Strands that are missing numerically are skills that do not need attention during the Early Childhood Education years.
Teachers who view children's skill development across ages and grades will be able to understand the sequential way children learn and become familiar with the way in which teachers at higher grade levels support learning.
1. LEARNING STANDARDS FOR EARLY CHILDHOOD DO:
• Inform teachers and administrators about curriculum and assessment and guide the selection of program materials and the design of instruction
• Inform parents of age-appropriate expectations for children
• Provide a common framework for community-based work on curriculum and transitions
2.THE LEARNING STANDARDS FOR EARLY CHILDHOOD ARE NOT USED:
• As a specific curriculum or to mandate specific teaching practices and materials
• To prohibit children from moving from one grade or age level to another
• To assess the competence of children or teachers
3. INFANT-TODDLER LEARNING STANDARDS
The Infant-Toddler Standards are divided into three age levels: infant (birth through 12 months), young toddler (9 months – 27 months) and older toddler (24 months through 36 months). These age divisions are arbitrary as a means for organizing the content; very young children's development is uneven and may span two or all three of the age levels in different Key Areas of Learning. This is reflected by the overlap of the age 9 – 27 months in younger toddlers.
The Standards in each Key Area of Learning are displayed on an infant-toddler continuum with the content within one strand presented together on one page. Practitioners can look across each age level to determine the skills that best match their children's current development, identifying additional standard statements, examples and supportive practices to scaffold children's
learning.
When strands include "Emerging" under infant or young toddler, these concepts are beginning to emerge but are expected to be mastered. For example, infants and young toddlers may be exploring mathematical estimation as they interact with materials, but intentional instruction would not be appropriate for that age. Adults should continue to introduce these concepts
whenever appropriate for the individual child without expectation of mastery.
4. LEARNING STANDARDS FOR PRE-KINDERGARTEN
Teachers will find the skills that pre-kindergarteners (ages three and four) are practicing and mastering within the pre-kindergarten standards. Younger preschoolers will be learning the content, while older children will be mastering the skills and showing proficiency in many of them. Classroom environments, materials and activities that are developed for this age will be appropriate for both three and four year olds; expectations for mastery will be different.
5. LEARNING STANDARDS FOR KINDERGARTEN
Students who complete kindergarten should demonstrate mastery of many of the skills within the Kindergarten Standards. This document is designed for full day kindergarten classrooms. Half day kindergarten teachers will need to modify the amount of content that is introduced to children during the kindergarten year, but the cognitive processing that children must develop and
the holistic instruction will remain constant regardless of the length of the kindergarten day.
It is critical that kindergarten instruction occurs through an active learning approach where teachers use differentiated instructional strategies and focus on learning centers and play as key elements of the daily schedule. Child-directed instruction should be predominant with language and literacy and math infused through the day in addition to their special focus learning times.
Kindergarten children should be given opportunities to develop social and emotional skills, physical skills and their creative expression within the course of a kindergarten day.